Chinese Reading, English Reading, Chinese Learning, Language Tool. www.hanwj.com
---
ÖÐÎÄ
SpeechAnywhere Quick Guide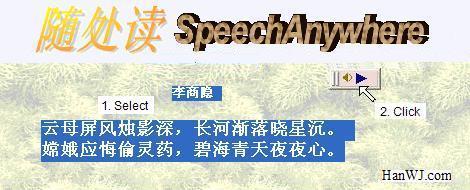 SpeechAnywhere is used to read selected Chinese/English text on a normal window. It is a very convenient tool for learning Chinese and listening to web or text file content. With SpeechAnywhere, Chinese speech from web page or other window is just a click away!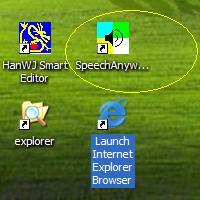 (1) After instalation,there should be SpeechAnywhere icon on desktop(see right figure).
(2) After launching SpeechAnywhere,a small SpeechAnywhere toolbar will pop up(see figure below).
(3) To read text, just select the text,then click the Play button on the toolbar. It's as simple as that!
(4) After launching SpeechAnywhere,besides the SpeechAnywhere toolbar, there will be a SpeechAnywhere control icon on TaskTray at lower-right corner of desktop(see figure below). Left-Click on this icon to hide/show SpeechAnywhere toolbar.

(5) Right-Click will pop up the Control Menu.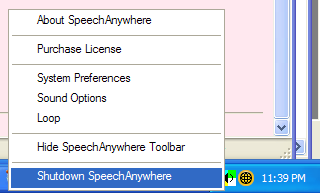 (6) Right-Click on SpeechAnywhere toolbar will pop up a control menu, see figure below.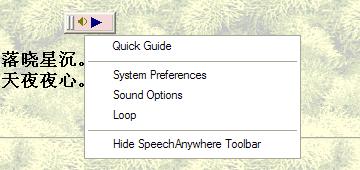 ---